Your event is unique
---
We understand that each event is unique and customize all our services to fit your particular needs. We pride ourselves in offering comprehensive event management solutions and are happy to discuss additional corporate event services that you might require to make your event an inspiring and memorable one.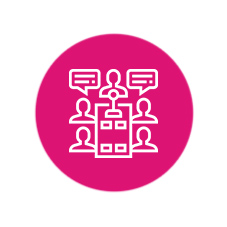 A corporate event is a powerful tool for communicating, sharing, networking, learning, building and growing. To facilitate these interactions, events must be carefully and purposefully designed.
Project Management
We assess. We benchmark. We monitor. We report. We refine. We navigate the milestones from inception to execution. Mosaic uses fundamental project management methods and best practices in event management to help accomplish your objectives on time and under budget.
Financial
We pride ourselves on our fiscal responsibility and creative approaches to managing costs without sacrificing event quality or innovation. We pay vigilant attention to budget and resources, to optimize return for you and all stakeholders.
Logistics
We manage the intricate web of suppliers, such as venue, audio-visual, catering, decor and transportation for your event. We are methodical and meticulous in communicating with contracted vendors to execute a seamless event experience.
Marketing
We know that building attendance for your event is crucial. We also believe in building brand presence. Mosaic will provide a marketing tactical plan that incorporates online, email, social, print and other media, to inspire your target audience to attend and spread the word.
Technology Management
Face-to-face interactions are now digitally enhanced. We stay current on the tech trends and advancements in event technology so we can advise you on the best options. We are ready to support your event with mobile apps, audio visual gear, virtual platforms, and more.
When asked to organize a national AGM and conference for about 200 VIPs, I was terrified. Thankfully, I met Stephanie and she lead the project. From achieving group consensus on Swag, to finding great inexpensive entertainment, Stephanie lead the operation from start to finish, even writing a complete post event report for the next year's AGM. Highly recommended!

GeoConvention has had the pleasure to work with Stephanie and the Mosaic team over the last five years. She is an extremely valuable member of the GeoConvention team in managing the overall project and associated timelines, offering insightful market and trend analysis as well as registration oversight and customer service. She is also a key piece of our onsite execution in ensuring everything runs smoothly with a focus on attendee experience. We are very fortunate to have Stephanie involved with our annual conference, helping to ensure flawless execution by proactive planning and an acute attention to details and organization.

Stephanie took the time to get to know our event and was able to gain an understanding as to our target audience, programming goals and overall event and logistic goals in order to best assist in managing one of our events. Our experience with Stephanie from Mosaic Event and Travel Management was positive and enlightening and we are looking forward to working with her more in the future.

I have worked with Stephanie Barkley for years and she is a top notch meeting manager. She brings strategic and creative thinking to her projects which allows her to help solve business challenges though meetings and events. She is someone I look forward to working with again.

Immigrant Services Calgary partnered with Stephanie and her team to deliver our 2018 Immigrants of Distinction Awards (IDA), which proved to be a successful event. Stephanie's professionalism, strategic mindset, and contribution of creative ideas have made a very positive impact on our event. We are confident that the 2019 Immigrant of Distinction Awards will be even more successful under her skilful planning and coordination