Every event is unique.
---
At Mosaic, we hone in on the idea that each and every event is uniquely its own and we customize all of our services to fit your particular needs. We can assist you with any aspect of your event planning process, whether it's individual pieces of your event, or with planning the whole thing. For registration, we can handle organizing sign-ins, RSVPs, ticket management, or anything else under this umbrella. Our team can assist with creating agendas, marketing and speaker management, allowing you to focus your attention elsewhere. You may wish to distance yourself from dealing with budgets, schedules, or the tedious logistic details. Have no fear, we will happily take any of those off your plate and create a streamlined approach tailored to your needs.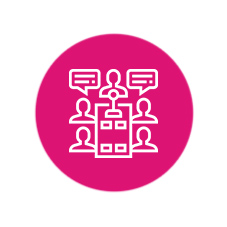 The way we see it, corporate events are an incredibly powerful tool for building relationships, learning new things and growing your business with a purpose. We also believe that to facilitate interactions the right way, each event detail needs to be carefully, purposefully and strategically designed. That's where The Mosaic Way comes into play.
Project Management
We assess, we benchmark, we monitor, we report, we refine, and we navigate. From inception to execution, Mosaic uses fundamental project management methods and best practices in event management to help you strategically and successfully accomplish your objectives on time and under budget.
Financial
At Mosaic, we pride ourselves on our fiscal responsibility and creative approaches to managing costs without sacrificing even an inch on event quality or innovation. We pay vigilant attention to budget and resources, optimizing return for you and every stakeholder.
Logistics
Managing logistics is all on us, from communicating with the intricate web of event suppliers and vendors to methodically and meticulously ensuring that your event is seamless from start to finish.
Marketing
We know the importance of building attendance for your event along with the importance of building your brand presence, which is why we provide a tactical marketing plan that incorporates online, email, social, print and other media to inspire and excite your target audience.
Technology Management
Technology is the way of the world now, with even face-to-face interactions digitally enhanced. We make it our job to stay current on the latest trends and advancements in event technology, and we're ready to support your event with mobile apps, audio/visual gear, virtual platforms and more.
"Mosaic is a superbly professional event management firm with equally fine problem-solving skills and network allies.  Stephanie enjoys details and yet understands the big picture.  Mosaic's input in the planning stage moves the project forward and their magic on the day-of ensures an excellent experience for everyone despite the gremlins which inevitably appear.  We look forward to growing with Mosaic for many more years." Frances Wright Chair & Co-Founder Famous 5 Foundation

When asked to organize a national AGM and conference for about 200 VIPs, I was terrified. Thankfully, I met Stephanie and she lead the project. From achieving group consensus on Swag, to finding great inexpensive entertainment, Stephanie lead the operation from start to finish, even writing a complete post event report for the next year's AGM. Highly recommended!

GeoConvention has had the pleasure to work with Stephanie and the Mosaic team over the last five years. She is an extremely valuable member of the GeoConvention team in managing the overall project and associated timelines, offering insightful market and trend analysis as well as registration oversight and customer service. She is also a key piece of our onsite execution in ensuring everything runs smoothly with a focus on attendee experience. We are very fortunate to have Stephanie involved with our annual conference, helping to ensure flawless execution by proactive planning and an acute attention to details and organization.

Stephanie took the time to get to know our event and was able to gain an understanding as to our target audience, programming goals and overall event and logistic goals in order to best assist in managing one of our events. Our experience with Stephanie from Mosaic Event and Travel Management was positive and enlightening and we are looking forward to working with her more in the future.

I have worked with Stephanie Barkley for years and she is a top notch meeting manager. She brings strategic and creative thinking to her projects which allows her to help solve business challenges though meetings and events. She is someone I look forward to working with again.

Immigrant Services Calgary partnered with Stephanie and her team to deliver our 2018 Immigrants of Distinction Awards (IDA), which proved to be a successful event. Stephanie's professionalism, strategic mindset, and contribution of creative ideas have made a very positive impact on our event. We are confident that the 2019 Immigrant of Distinction Awards will be even more successful under her skilful planning and coordination.